About Conference
Allied Academies Publication is a scientific association known for promoting scientific temperament and has been performing very well in Business and Management and is a perfect platform for our readers. It is established in the year 1997. The main motto is making the information on science and technology. It is a specialized medical and science publisher that operates in collaboration with the association and societies. This publishing house has been built on the base of esteemed academic and research institutions including The College of Audiologists and Speech Language Pathologists of Ontario (CASLPO), The Association for Public Safety Communications Officials of Canada (APCO), The Canadian Vascular Access Association (CVAA), and The Canadian Society of Internal Medicine (CSIM).
Get Benefited by Attending General Pediatrics 2018
Speaker and Abstract pages created in Google on your name would get worldwide acknowledgment to your research profile.

Library of Abstracts which brings worldwide exposure to the researchers and speakers participate in our conferences.

Opportunity to get sponsorship for your projects.

Opportunity to moderate the conference.

Career Guidance Workshops to the Graduates, Doctorates and Post-Doctoral Fellows.

Accepted Abstracts will be published in respective supporting journals, each abstract will be labeled with a DOI provided by Cross Ref.

Speaker will be felicitated with Certificate.

Best Poster Competitions and Young Researcher Competitions.

B2B meetings.

In process of attending CME Accreditation.

Certificate Accreditation by the International Organizing Committee (IOCM).

Abstracts will be published in conference souvenir & international.
Welcome Message
Welcome to General Pediatrics 2018!
With immense pleasure and excitement, I am euphoric to invite you to attend/participate in "General Pediatrics, Adolescent Medicine and Neonatology Congress" which will be held during December 12-13, 2018 at Abu Dhabi, UAE.
The main objective of Pediatrics 2018 will be to review the new findings and advancements in the field of Pediatric This event will be of special interest to any professional involved in pediatric healthcare domain, such as, pediatrician, pediatric nurse practitioner, manufacturers of pediatric drugs & health care devices, academicians, Directors, CEO's of Organizations, Association Presidents, Researchers, Scientists, Graduates, Post Graduates and PhD Scholars , students, parents, clinical coordinators, health care professionals of any disciplines. Pediatrics Health Care conference gains special interest with every passing year in its particular goal to advance the health care knowledge and practice of pediatric medicine: related research and technology involved. It will provide a platform for multidisciplinary exchange of information to accelerate pediatric disorders and shed light on the significant scientific discoveries in all aspects of Pediatrics Health Care. Above all, it will be a meeting place to network and meet like-minded people in the field of Pediatrics, Adolescent Medicine, Health Care and Research.
Market Analysis
Children's are frequently inclined to sickness and they catch diseases recurrently. Therefore, pediatric medicine and other pediatric health care services sales are becoming significantly faster. Thus, the pediatric market as far as social awareness on pediatric health care is prospering by steady developments. The growing demand of treatment options for chronic illness makes the pediatric health care market lucrative to invest, and this report helps to gain heads on the in-depth analysis of various developments, market trends, opportunities, sales forecast and competitive landscape in this pediatric health care market. According to Deloitte, global health care spend, projected to reach $8.7 trillion by 2020. The global pediatric medicine market to grow at a CAGR of 4.97% during the period 2017-2021.According to Forbes, health care is a trillion dollar industry in the market. In 2014, the US spent around $2.9 trillion on health care services. In US, total health care disbursement was calculated to be $3.24 trillion in 2015, and was expected to reach $3.78 trillion in 2018. China's health care industry will reach $1 trillion by 2020, which will constitute one of the largest markets all over the globe.
The global market for Pediatric Health Care services was worth $56.9 billion in 2008 and had a forecast to increase up to $79.3 billion in 2013 at a CAGR of 6.8%. Then, in 2010 the global Pediatric Health Care market has grown at a CAGR of 7.2% from $65.8 billion to $81 billion by 2013 and $83.6 billion by 2014. The global pediatric market is expected to reach nearly $100.7 billion by 2019. Again the global pediatric ultrasound market is accounted for $275.30 million in 2016 and by 2023, it is expected to reach up to $420.71 The overall pediatric vaccine market is set to end up noticeably worth more than $40 billion USD by the year 2022, with 500 million newborn children to be vaccinated by 2022.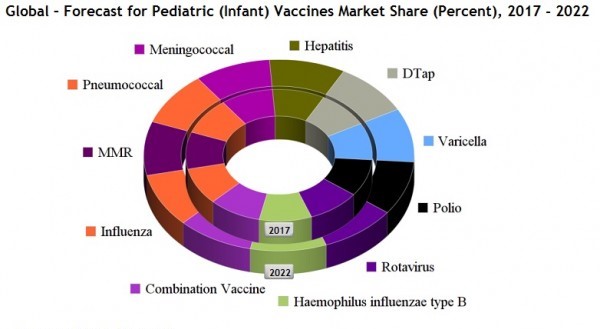 North America represented the greatest offer took after by Europe in 2015. Likewise, the worldwide market for pediatric cardiology in 2015 is to a great extent commanded by the U.S. because of the expanding cases of heart infections among the kids. Europe is ready to display most elevated development rate amid the conjecture time frame because of the high interests in pediatric products and services by European people. So, Europe is considered as the second largest market of pediatric health care products and services. In Middle East & Africa, the market scenario for pediatric health care was US$ 48 billion in 2016 and by 2023 it is expected to reach US$64 billion at 4.1% CAG.Asia-Pacific, is considered as the future market for pediatric health care products and services because of rising awareness on pediatric health care and child health among the people. The pediatric market in Asia-pacific is gauge to become attributable to the quick innovative advances in solution going ahead in creating economies.

The various players in global pediatric health care market are such as Johnson & Johnson, Procter & Gamble, AstraZeneca, Abbott Laboratories, GlaxoSmithKline, Merck & Co., Pfizer, Sanofi, Perrigo, Mead, Bayer Aktiengesellschaft, Nestle, Danon etc
Scientific Sessions
General Pediatrics
Pediatrics is the branch of medicine that involves the medical care of infants, children, and adolescents. A Pediatrician is a child's doctor who will manage the physical, mental and emotional well-being of their Pediatric patients, in every stage of development. The aim of the investigation of Pediatrics is to decrease new-born and infants rate of deaths, control the spread of diseases and also to promote healthy lifestyles for a long infection free life and help to facilitate the problems of children and adolescents.
Neonatology
Neonatology is a branch of medicine concerned with the care, development, and diseases of new-born infants. Diagnose and treat new-born with conditions such as breathing disorders, infections, and birth defects. Coordinate care and medically manage new-borns born premature, critically ill, or in need of surgery.
Perinatology
A subspecialty of obstetrics concerned with the care of the mother and fetus at higher-than-normal risk for complications. Since the perinatal period, depending on the definition, starts at the 20th to 28th week of gestation and ends 1 to 4 weeks after birth, perinatology logically could be an obstetrical and Pediatric subspecialty but, in practice, it is part of obstetrics. The comparable area of Pediatrics is neonatology.
Pediatric Neurology
Pediatric Neurology or child neurology refers to a specialized branch of medicine that deals with the diagnosis and management of neurological conditions in neonates (new-borns), infants, children and adolescents. The discipline of child neurology encompasses diseases and disorders of the spinal cord, brain, peripheral nervous system, autonomic nervous system, muscles and blood vessels that affect individuals in these age groups.
Immunizations are an essential component of modern medicine and are paramount for
global health
. This schedule of recommended immunizations may vary depending upon where you live, your child's health, the type of vaccine, and the vaccines available. Geographic location also contributes to variation in
immunization
schedules by country. The recommended immunization schedule is designed to protect infants and children early in life, when they are most vulnerable and before they are exposed to potentially
life-threatening diseases
. Vaccines contain weakened versions of a virus or versions that look like a virus (called antigens). This means the antigens cannot produce the signs or symptoms of the disease, but they do stimulate the immune system to create antibodies. These
antibodies
help protect you if you are exposed to the virus in the future. The following are some of the vaccines for children that are used globally.
Pediatric Allergy & Infectious Diseases
Pediatric Allergy is an important subject to be learnt in order to promote understanding and advance the treatment of respiratory, allergic, and immunologic diseases in children. It emphasizes the epidemiological research on the most common chronic illnesses of children—asthma and allergies—as well as many less common and rare diseases. Swollen or enlarged adenoids and Tonsils are common in children. Environmental and food allergies in children occur when the children's immune system reacts to normal harmless substances present in the environment. Pneumonia is often caused by viruses, such as the influenza virus (flu) and adenovirus. Other viruses, such as respiratory syncytial virus (RSV) and human metapneumovirus, are common causes of pneumonia in young kids and babies. Some of the Allergic reactions in children include, red eyes, atopic dermatitis (eczema), itchiness, runny nose, urticaria (hives), an asthma attack and sinusitis
.
Pediatric Nutrition & Diet
Right Nutrition in early days of life is very important. Nutritional requirements are different for kids and adults in the family. They are in their growing age, they need balanced nutrition but not only high calorie foods. In growing years different age groups have different requirements. Pediatric Nutrition is the maintenance of a proper well-balanced diet consisting of the essential nutrients and the adequate caloric intake necessary to promote growth and sustain the physiologic requirements at the various stages of a child's development. Pediatric nutritional needs vary considerably with age, level of activity, and environmental conditions and they are directly related to the rate of growth. Breast Feeding has important ingredients that are not found in any infant formula, to build the baby's immune system. Pediatric Nutrition must consist of essential Vitamins and Minerals which help for the growth and development. Proteins are the basic units required mainly for the construction of the body muscles and in all the metabolic activities of the body. To increase the calcium levels intake of dairy products are needed.
Pediatric Care & Nursing
Pediatric Care & Nursing is the combination of Pediatrics and Nursing. Specially trained nurses from field of Pediatrics play a major role in Pediatric nursing. A Pediatric Nurse is a nursing professional that primarily works in the field of Pediatrics. Pediatric nurses often work in a team of pediatric healthcare professionals. Many Pediatric Nurses also responsible for administering vaccinations and immunizations, and keeping their patients vaccination schedules up to date. The track includes the Importance of Health Care, Neonatal intensive care and Nursing, Schizophrenia and Nursing care, Psychiatric & Mental Health Nursing. Emergency care nursing is the important part of training given to medical nurses and graduates, so that in case if absence of a complete emergency practitioner, they can be a help for patients.

Pediatric Cardiology
The study of Pediatric Cardiology is responsible for the diagnosis of congenital heart defects, performing diagnostic procedures such as echocardiograms, cardiac catheterizations and electrophysiology studies. The increasing number of neonates with congenital heart defects referred to the neonatal intensive care unit reflects the increasing awareness that the defects may be present. Chest radiography and ECG rarely assist in the neonatal diagnosis. Congestive heart failure in the fetus, or hydrops, can be detected by performing fetal echocardiography. In this case, congestive heart failure may represent underlying anaemia (eg, Rh sensitization, fetal-maternal transfusion), arrhythmias (usually supraventricular tachycardia), or myocardial dysfunction (myocarditis or cardiomyopathy). Many of the Pediatric heart defects such as patent ductus arteriosus interruption, vascular ring division, pericardial window, diaphragm placation, thoracic duct ligation, ligation of collateral vessels have been repaired using Pediatric Interventional Cardiology. The barriers and challenges to achieving routinely applicable Tissue Engineered and Regenerative Cardiac Surgery Methods are also explored as is a novel concept for the Cardiac Hybrid Operating Room Suite of the 21st Century. Apart from these techniques nursing and care for pediatric cardiac patients also plays an important role for the cure of Pediatric Cardiac patients.
Pediatric Endocrinology & Growth
Pediatric Endocrinology is a medical subspecialty dealing growth disorders and sexual differentiation in childhood, as well as neonatal diabetes and other disorders of the endocrine glands. It also includes the study of the most common types of diabetes are type 1 and type 2 diabetes. There is another type of diabetes that is often misdiagnosed as type 1 or type 2 diabetes, called monogenic diabetes which is seen in children.
Pediatric Gastroenterology & Metabolism
Gastrointestinal disorders in children range from minor to life threatening, and short- to long-term or chronic. Neonatal Jaundice is one of the most common conditions needing medical attention in new-born babies. Gastrointestinal food allergies are not rare in infants and children. Gastrointestinal (GI) endoscopic procedure a Pediatric Endoscopy has become an essential modality for evaluation and treatment of GI diseases. Complex gastrointestinal surgery is one of the common methods to treat GI disorder in children. The principle diseases concerned with Pediatric Gastroenterology are acute diarrhea, gastritis, persistent vomiting and problems with the development of the gastric tract.
Psychiatry & Neurodevelopmental Pediatrics
Neurodevelopmental disorders can affect child's ability to think and function normally. Symptoms of behavior or learning difficulties, autism, brain tumors' or other brain and developmental disorders can appear at birth or in later years.
Pediatric Pulmonology
Pediatric pulmonology is a medical specialty that deals with diagnosis and treatment of diseases involving respiratory tract. Pediatric pulmonology is a combination of both pulmonology and Pediatrics. Pediatric pulmonologists are specially trained in pulmonary Pediatric diseases and conditions of the chest, particularly pneumonia, asthma, tuberculosis, complicated chest infections, etc. Epiglottitis is a cause of that should be considered by the EMT when evaluating children in respiratory distress. Hence it is important to study the diagnosis, immunization and preventive measure of these diseases.
Pediatric Rheumatology
A Rheumatic disease affects the joints, muscles and connective tissues. Some, like osteoarthritis, are the result of wear and tear. Others, such as rheumatoid arthritis, are immune system problems. Treatment plan will likely include medications, regular exercise, a healthy diet, stress management, and rest. Common Rheumatic disorders are Lyme disease, Systemic lupus Erythematous, Behest's Disease, Polymyalgia Rheumatics, Rheumatic fever. Lupus erythematous is a name given to a collection of autoimmune diseases in which the human immune system becomes hyperactive and attacks normal, healthy tissues. Rheumatic fever is an inflammatory disease that can involve the heart, joints, skin, and brain. Many rheumatic diseases are chronic conditions. They are unlikely to go away. There may not be a cure for our condition, but effective management is available for most. Many people with rheumatic disease lead happy, satisfying lives year after year.

Pediatric Oncology
It can be frightening to hear that a child has cancer or a blood disorder. It is acknowledged that neuroblastoma is the most common extra cranial solid tumor of infancy. It is an embryonic malignancy of the sympathetic nervous system arising from neuroblasts (pluripotent sympathetic cells). Researchers are looking for genetic source of childhood cancer. The common blood disorders in children are leukemia and lymphoma. Leukemia is a disease of the white blood cells. The most common type of Pediatric leukemia is acute lymphocytic leukemia. Other types of leukemia that occur less frequently in children are acute myeloid leukemia, and chronic myeloid leukemia. Lymphomas (Hodgkin and non-Hodgkin lymphoma) are the third most common cancer in children. Based on the characteristics and microscopic appearance of the cancer cell, the Pediatric lymphomas are divided into Hodgkin Lymphoma and Non-Hodgkin lymphoma. Hence learning more about the advances in cancer detection and images becomes a prominent subject to cure childhood cancer.
Pediatric Hepatology
Hepatology is a branch of medicine concerned with the study, prevention, diagnosis and management of diseases that affect the liver, gallbladder, biliary tree and pancreas. The term is derived from the Greek words hepatikos and logia, which mean liver and study.
Pediatric Hematology & Nephrology
Pediatric Hematology is the branch of pediatrics dealing with study, diagnosis, treatment and prevention different types of blood disorders including the study of bleeding and clotting disorders in children. The study of Tumor cell biology reviews applications concerned with signal transduction mechanisms in neoplastic cells, and regulation of tumors cell phenotype and behaviour, and tumour progression. It important to study causes, risk factors and the hypothesis in Pediatrics with Hematology disorders. A medical practitioner who specializes in this field of Pediatric Hematology is called Pediatric Hematologist. It is important that one should be familiar with the educational and preventive measures in order to prevent children being affected with blood disorders.
Pediatric Trauma & Depression
Children with fever account for as many as 25% of Pediatrics emergency department (ED) visits, and the underlying disorders in these cases range from mild conditions to the most serious of bacterial and viral illnesses. Asphyxias cardiac arrest is more common than VF cardiac arrest in infants and children, and ventilations are extremely important in Pediatric resuscitation. The track includes Pediatric thoracolumbar spine trauma, Child Abuse & Management, Educational & Preventive Measures and Skull Fractures.
Pediatric Surgery
Pediatric Surgery is a branch of Pediatrics which is dealing with all the surgical operations of children. It is a combination of both surgery and Pediatrics. Pediatric surgery is responsible for the treatment of many disorders through surgical operations in children and playing vital role in saving lives at birth stage by new-born and fatal surgery. Pediatric surgery can be mainly divided into two sub categories, known as, Pediatric cardio thoracic surgery, Pediatric Surgical Oncology, Pediatric Nephrological Surgery, Pediatric Neurosurgery, Pediatric urological surgery, Pediatric Hepatological surgery, Pediatric orthopedic surgery, Pediatric vascular surgery and Pediatric oncological surgery.
Neonatal Intensive Care Unit
New-born babies who need intensive medical attention are often admitted into a special area of the hospital called the Neonatal Intensive Care Unit (NICU). The NICU combines advanced technology and trained health care professionals to provide specialized care for the tiniest patients. NICUs may also have intermediate or continuing care areas for babies who are not as sick but do need specialized nursing care. Some new-born babies will require care in a NICU, and giving birth to a sick or premature baby can be quite unexpected for any parent. Most babies admitted to the NICU are premature (born before 37 weeks of pregnancy), have low birth weight (less than 5.5 pounds), or have a medical condition that requires special care.
Pediatric Nursing
General Pediatrics provides the nursing care to children of all ages suffering from acute and chronic medical and surgical conditions. Nurses are profiled in several acute care departments, surgery wards and intensive care units. Nurses provide health care needs of all common disorders and educate the patients and their families to develop the quality of life. As per recent surveys, number of child deaths is increasing every year due to lack of advanced health care equipment. Hence Medical Practitioners and nurses are in the front line to reduce the mortality rates around the world.